ACBSP Accreditation
ACBSP is an umbrella organization associating over 1000 educational institutions.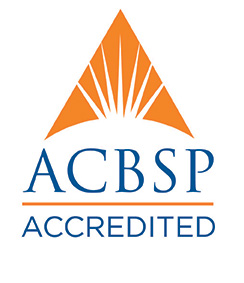 Accreditation Council for Business Schools and Programs (ACBSP)
associates colleges providing study programmes focussed on business economics. It is an international accreditation institution guaranteed by
CHEA (Council for Higher Education Accreditation)
which serve higher education, students and the public through advocacy and leadership in assuring academic quality through accreditation. ACBSP cooperates with some of the other important accreditation institutions, such as Latin America Council on management Education (CLADEA) and European Council for Business Education (ECBE).
VSEM has been a member of ACBSP since 2008. In 2009, the school received the accreditation for the Bachelor degree study programme of Economics and Management (BBA), Master degree Corporate management (MSc.) and for the MBA professional study program. In 2019, all study programs were reaffirmed (re-accredited) by ACBSP.
Conditions of ACBSP Accreditation
During the accreditation process, a college or university has to
prove that it fulfils the international standards
in the area of business economics and managements at various levels in all the key areas of studies:
The structure of the study programme matching standards of the study majors (Common Professional Component)
Qualifications of the lecturers
Study workload
Organization and technical facilities (buildings, study materials etc.)
System of regular internal and external evaluation
Long-term development programme
Interrelations to real business environment
Autonomy and stability
System of internal rules
Accreditation Process
VŠEM is ACBSP member since 2008 and passed initial accreditation process in October 16-18, 2009. The accreditation process verified all the necessary international standards and their application at VŠEM (International accreditation procedure is independent of the Ministry of Education). Accreditation is pending with the participation of independent ACBSP evaluators. VSEM was granted accreditation for Bachelor study program and a Master study and professional degree program Master of Business Administration. Every other year VSEM must submit a Quality Assurance Report, which describes the implementation of quality indicators, achievements or projects aiming on improving quality of study. In September 22-25, 2019, VŠEM passed reaffirmation (re-accreditation) of all study programs evaluated by three evaluators from ACBSP.
Information on student achievement are provided in Student achievement report. The report shows continuous improvement in all standards.
Organizational structure of ACBSP
ACBSP globally consist of 11 regions based on geographical locations. VŠEM is member of Region 8, which groups Europe, Africa and North and Central Asia. Region 8 is the largest and most diverse region within ACBSP. Organizational structure of each Region consists of its president, two vice-presidents, treasurer and secretary. Current president of ACBSP Region 8 for 2019-2020 is VŠEM Vice-rector for Studies.